Fanatical Prospecting, The Ultimate Guide to Opening Sales Conversations and Filling the Pipeline by Leveraging Social Selling, Telephone, Email, Text, and Cold Calling by Jeb Blount
Recommendation
In sales, nothing is more important than prospecting. Yet many salespeople don't prospect, because the process can be so painful. Now, help is at hand. Former sales superstar and master prospecting expert Jeb Blount teaches salespeople how to minimize the pain and become effective, productive sales prospectors. He explains his proven, productive system for prospecting. He covers all of the expected prospecting channels – emails, phone calls, social media, networking, and so on. Blount understands prospecting and has a lot of concrete information to share. getAbstract recommends his manual to salespeople and sales managers.
Take-Aways
Prospecting is essential to sales success, but it can be awkward and difficult.
Salespeople don't like interrupting prospects and prospects don't like being interrupted.
However, the more prospects salespeople generate to fill their pipelines, the more sales they'll make.
All top sales performers are great prospectors.
They may spend as much as 80% of their time on prospecting activities.
Sales superstars use all available prospecting channels: phone calls, cold calls, networking, social media, and so on.
They follow a simple philosophy: "When it is time to go home, make one more call."
They are "optimistic, competitive, confident, relentless, great learners, efficient, systematic" and "adaptive."
The phone is a salesperson's "most powerful sales prospecting tool."
Sales organizations fail when their salespeople don't do enough prospecting.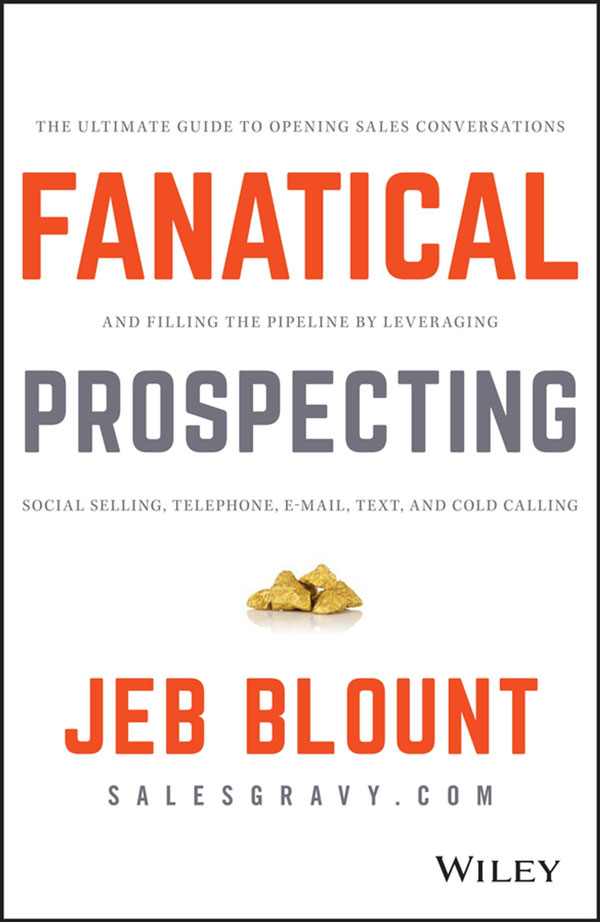 Fanatical Prospecting Book Summary
Prospecting
Many supposed sales experts claim prospecting is passé. These self-proclaimed authorities are almost always talking heads preoccupied with "inbound marketing, Sales 2.0" and "social selling." Their pitch to salespeople is, "Never cold call again!" Of course, they're wrong.
"There is no easy button in sales. Prospecting is hard, emotionally draining work, and it is the price you have to pay to earn a high income."
Prospecting is the most vital, essential activity in sales. Salespeople fail because they don't prospect. The main reason top sales performers – that special 20% who achieve 80% of the sales and sales commissions – do so well is that they're impassioned prospectors. They prospect all the time and at every opportunity. Sales superstars are "fanatical" about prospecting and qualifying prospects, and they spend as much as 80% of their time on those outreach activities.
"Three Core Laws of Prospecting"
Superstars keep their pipelines full of qualified prospects by following three essential tenets:
"The Universal Law of Need" – The more a salesperson needs a sale, the less likely he or she is to get it. When someone needs something so badly, desperation can set in and everyone, including prospects, can sense how pushed the salesperson feels. Salespeople who desperately need sales almost always have empty pipelines. The way to resolve this pressure is to prospect all the time. Salespeople with full pipelines make sales constantly.
"The 30-Day Rule" – All the prospecting you do in a 30-day period will benefit you for the next 90 days. Missing one day of prospecting during this 30-day period means you will come up empty for a day during the subsequent 90-day period. Miss two days of prospecting and you will come up short accordingly – and so on.
"The Law of Replacement" – Once you make a sale, replace the opportunity with a new one to keep your sales pipeline healthy. To succeed as a salesperson, add new prospects "at a rate that matches or exceeds your closing ratio."
Sales Formulas
The most basic sales formula is: "What (quality) you put into the pipe and how much (quantity) determines what you get out of the pipe." Golf great Arnold Palmer offers a parallel thought and another core formula: "The more I practice, the luckier I get." This philosophy applies directly to sales: "The more you prospect, the luckier you get."
"The first rule of holes is when you are in one, stop digging, and the first rule of sales slumps is when you are in one, start prospecting."
Top salespeople prospect all the time and use every available means: telephone, email, networking, asking for referrals, showing up at trade shows, speaking with strangers and cold calling. They follow whatever routine they must to find new prospects and keep their pipelines full. The sales superstar's philosophy is, "When it is time to go home, make one more call."
"Seven Mind-Sets of Fanatical Prospectors"
Great prospectors share seven mind-sets, which you can duplicate to "guarantee…success in filling your pipeline and crushing your number":
"Optimistic and enthusiastic" – Fanatical prospectors are naturally positive and enthusiastic. They love what they do. They attack every aspect of sales with gusto, including prospecting.
"Competitive" – Fanatical prospectors turn themselves inside out and upside down to win. This includes working overtime to "outwit and outhustle" their competition.
"Confident" – Fanatical prospectors believe in themselves. They are certain that they'll prevail in any contest, and usually they're right.
"Relentless" – Fanatical prospectors are persistent. If they have a chance of closing a new sale, they never quit.
"Thirsty for knowledge" – Fanatical prospectors stay open to picking up information that can help them become better salespeople.
"Systematic and efficient" – Fanatical prospectors are professionals who do everything necessary to locate the best prospects and close sales. They track their prospecting and sales activities.
"Adaptive and flexible" – Fanatical prospectors apply the "three As" to their prospecting: Adopt the best ideas to be effective. Adapt these ideas to work for you and your personal style. And, become adept at your job.
"The Fine Art of Interrupting"
Prospecting often means interrupting your prospects: unannounced, unscheduled and without invitation. That can be awkward, and it makes salespeople uncomfortable.
"Non-sales activity is the perfect excuse to avoid the hard work of prospecting. This is the core reason salespeople dig holes for themselves. Busy work becomes an excuse for not prospecting."
Prospects don't like to be interrupted, and they almost always tell salespeople so – usually in no uncertain terms. That's why weak salespeople don't like to call prospects. However, most companies don't generate enough inbound leads for salespeople to wait for prospects to call them.
Smart salespeople diversify their prospecting and take a broad approach. They leverage multiple prospecting methods – cold calls, phone calls, emails, social selling, networking, and so on.
"Superstars out-earn other salespeople – taking home almost all of the available commissions and bonuses."
Besides their general reluctance to prospect, weak salespeople often object to a particular prospecting form by saying, "I'm just so much better at…" This is a cop-out. Salespeople need to become proficient at all the various forms of prospecting.
Customer Relationship Management (CRM) and Sales Success
Use your CRM to target your most promising prospects and concentrate on them. Your CRM is your most valuable sales tool. Think of it as a "software-based filing system." With CRM, you can manage your contact information and sales pipeline. Your CRM enables you to organize your prospect database and to create prospecting lists according to different database fields. Your CRM is only as good as you make it. Constantly maintain and update the integrity of your data entries. Regularly enter information into your CRM about new sales leads. Don't treat your CRM like a "trash can." Make it your personal "gold mine."
"Mental Toughness"
In sales, your accomplishments last month, last week or even yesterday mean nothing. What matters is what you do today, tomorrow, next week and into the future. Surviving in sales requires mental toughness or grit. Mental toughness doesn't require a specific DNA. Anyone can develop mental toughness, including you. Mental toughness depends on four factors:
"Desire" – Heartfelt "desire is the mother of sales activity." How much do you want to succeed as a salesperson? In sales and in life, success comes down to one basic question: "How bad do you want it?"
"Mental resilience" – To be successful, keep your skills sharp. Maintaining an edge requires mental resilience. Sometimes you must "slow down to speed up." Take the time to read, study and practice to improve your skills.
"Out-learn equals out-earn" – As the Roman consul Cicero said, "The cultivation of the mind is as necessary as food to the body." His words are as true today as when he spoke them thousands of years ago. People who learn will excel in their fields. Sales superstars learn more than their competition and then they earn more, as well.
"Physical resilience" – Rejection goes with the territory. Rejection can sap your mental energy, which depends on your physical energy. Strengthen your physical resilience. Eat right, exercise, get plenty of sleep and, in general, take care of yourself.
Social Selling
The abundance of social media channels is the greatest technological advance since the development of the telephone. Use social media to gain valuable information regarding your prospects, including their buying preferences and triggers. Salespeople should monitor LinkedIn, Facebook, Twitter, Google+, Pinterest, Instagram, Tumblr, Foursquare, Swarm, Ello, SoundCloud, YouTube, Snapchat, WhatsApp and SlideShare. Social media outlets aren't sales channels, but they are "connect, interact and learn" channels. Use social media to develop familiarity with your prospects and to build awareness about your brand.
Prospecting over the Telephone
Many salespeople hate telephone prospecting. They complain that the phone is passé, that prospects hate to be called, that people don't answer the phone anymore and – the tired, old standby – that "cold calling is dead." Research indicates that more businesspeople now answer their own phones than was common in the past. The phone is a salesperson's "most powerful sales prospecting tool."
"To succeed in sales, simply talk to lots of people every day. And here's what's exciting: There are lots of people!" (the late motivational speaker Jim Rohn)
Depending on the product, an efficient salesperson can accomplish 25 to 50 prospecting phone calls in an hour – that is, 100 to 200 prospecting calls in four hours. This is a great way to fill your sales pipeline, and it's exactly what you should do to make the telephone your most efficient sales tool. Set up a "scheduled phone block" of one to two hours of regular, intense, focused and uninterrupted telephone prospecting. Get to "yes, no or maybe as fast as possible, in the least intrusive way, using a relaxed, confident, professional tone that reduces resistance." Get to the point of your call in 10 seconds or less.
"Five-Step Simple Telephone Prospecting Framework"
Each prospecting call should include five steps:
"Get their attention" – Just say something like, "Hi, Julie." Don't ask, "How are you doing?"
"Identify yourself" – State your name and the company you represent.
"Tell them why you are calling" – Be straightforward and say that you want to set up an appointment for a meeting.
"Bridge – give them a 'because'" – Quickly supply a sensible business reason why they should meet with you. For example, you might say that you just learned that their company is planning to add 200 new positions in the next year, that your company specializes in finding qualified candidates and that your other clients like your services.
"Ask for what you want, and shut up" – "I thought the best place to start is to schedule a short meeting" to learn about your recruiting challenges and goals. "How about we meet Wednesday afternoon around 3:00 p.m.?"
Prospecting via Email
Email and the great email tools and accessories available can make any salesperson a super-efficient prospecting machine. Your high-tech options include Yesware, Signals, Tout and Tellwise, as well as your own CRM.
"Fanatical prospectors receive more rejection before 9:00 a.m. than the average person gets in an entire year. The fact is, most people wouldn't last a minute in sales."
Use the time outside the "golden hours" for prospecting and sales to plan and schedule emails to go out "during prime selling time." That way, your emails can work for you while you're busy dealing directly "on the phone or face-to-face with prospects and customers."
You can create a "database of email addresses" quickly and use email to "test and measure response rates." The "three cardinal rules" of email prospecting are:
"Your email must get delivered" – Your email must elude the various spam filters people set up to protect email accounts. Avoid this problem by not sending bulk emails. Make all your emails one-to-one deliveries. Don't attach images since many email programs automatically identify emails with attached images as spam. Avoid including hyperlinks.
"Your email must get opened" – Make your emails as compelling as possible. Your subject lines "must scream 'open me!'"
"Your email must convert" – The only way you can convert the recipient of a cold-call email to a prospective client is by sending highly personal emails – or emails that seem to be personal. Shoot for these goals: "an appointment; qualifying information; an introduction to a decision maker; a forward to other influencers; [the] download of documents, a video view or a webinar registration;" or "a sales conversation."
About the Author
The author of seven books, Jeb Blount is a sales acceleration specialist who helps sales organizations quickly reach peak performance.
Video & Podcast