The B2B Social Media Book, Become a Marketing Superstar by Generating Leads with Blogging, LinkedIn, Twitter, Facebook, Email, and More by Kipp Bodnar and Jeffrey L. Cohen
Recommendation
Business-to-business (B2B) firms should establish a platform in social media. Their outlets are perfect for enhancing two vital B2B building blocks: defining prospects and establishing relationships. Many B2B firms don't understand or use social media and their leaders remain unaware of the many benefits they could realize. Don't be one of those leaders. Here, Internet marketing strategists Kipp Bodnar and Jeffrey L. Cohen explain social media and its substantial payoffs for B2B entrepreneurs. The authors detail how to formulate your ROI from social media activities and they lay out workable strategies for every social media option. getAbstract recommends their sound advice, worthwhile strategies and practical information to every B2B entrepreneur.
Take-Aways
Social media marketing offers a set of tools that compliment the capabilities and expertise of business-to-business (B2B) marketers.
Social media channels are much more than buzz, fans, followers and likes.
Blogging should be the heart of your social media activities.
Using social media can generate sales leads and a solid return on investment (ROI).
B2B marketers can apply a formal "social media ROI formula" to determine the direct revenue payoff of their social media activities.
Attain a broad reach on social media by offering quality content that helps prospects solve their problems.
Social media content stays online forever, unlike ads that expire quickly.
Include compelling "calls to action" (CTAs) in all your social media content.
You can convert CTAs to sales leads, and then convert some leads to revenue.
The mobile web is becoming more and more dominant. Optimize your social media content to go mobile.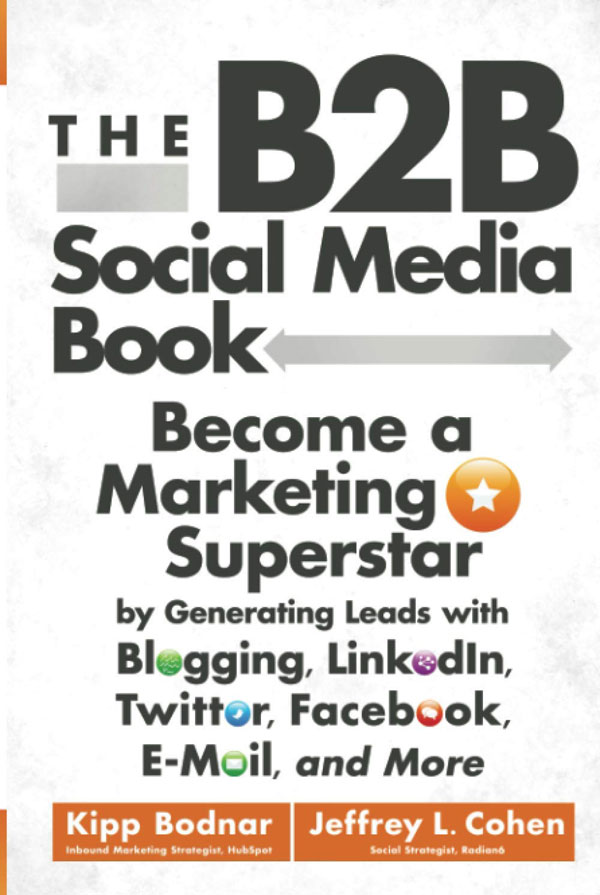 The B2B Social Media Book Summary
Social Media Work for B2B Marketing
Social media can turn you into a business-to-business (B2B) marketing superstar by cutting your costs, increasing your leads and helping you earn a measurable return on your marketing investment (ROI). Nearly three of four CEOs mistakenly believe that marketing executives cannot verify the correlation between their activities and their firms' bottom lines – but with social media, you can.
"More information is created on the Internet in 48 hours today than was created by all humankind from the beginning of time until 2003." (Google executive chairman Eric Schmidt)
This disruptive technology constitutes a "revolution in which creativity and analytical thinking collide." To build a strong advantage, step up and join the revolt – but only if social media communication is appropriate for your firm. These channels don't fit every commercial enterprise. For example, if you serve five customers or fewer, just communicate with them directly and focus on face-to-face contact. If your prospects' purchasing agents operate behind firewalls – for example, as with the military – they won't care about social media. Don't worry about social media if you need to sell products quickly – that's not a social media strength. Don't attempt an initiative on social media if you and your organization can't devote a lot of time and money to a strategic program.
"Social media marketing injects customers directly into the marketing process, where they can accelerate or extinguish marketing efforts."
In traditional marketing, you rent your prospects' attention by buying ads. In social media marketing, you own prospects' attention when they read your blog posts or watch your videos. Paid ads have a limited life span, so their costs are one-time expenses. Social media content has a virtually immortal life span online, where it functions as more of an annuity than an expense item.
Social Marketing Leads
To generate leads by using social media marketing, follow this five-step plan:
"Get the basics right" – Create "offers, calls to action (CTAs)" and action-oriented landing pages featuring forms that online visitors can fill out to accept your offers. Know who views and clicks on your CTAs. Create compelling, "solution-based" content that aligns with your CTAs and your offers. The wider your reach, the more leads you'll gain.
"Maximize content discovery" – The better your online content is, the more people will share it. Present easy-to-understand ideas. Use such tools as "Google Alerts…Twitter Search…and Board Reader" to monitor reader reaction.
"Create conversion ubiquity" – Social media marketers must include conversion mechanisms with their content, by, for example, placing CTAs next to their blog posts. Make easy-to-use conversion devices ubiquitous throughout all your posts.
"Test and fail fast" – Get your material online quickly. Reduce internal approval processes and shorten the time between posts.
"Optimize for maximum lead flow" – Work to increase your website's "visit-to-lead conversion rate." Use web analytics to establish where your website traffic originates and how to make the most of it.
"Search Engine Optimization" (SEO)
To maximize potential customers' search results, astute B2B marketers translate their work into terms that search engines can decipher. They align their websites' "theme, knowledge and information" content with specific search-engine procedures. To increase the web hits you get when people search for a company in your niche, adopt a "unified key word strategy." Establish a primary list of key words and feature them often and consistently in your content.
"Social media have made it easy for marketers to become publishers, meaning the Web is now full of product-centric, boring content."
Make sure your "page title" emphasizes a key word that is in your web address – your URL. Use these searchable words repeatedly in your "page text." Make your "meta description" – the copy that describes your web page – as compelling as possible. Choose five unique key words that apply to your business and develop individual blog posts for each one. Key word rankings are less important today than they were in the earlier days of online business. The personal nature of social media has made "key word rank irrelevant." Today, search is social. The crucial measurement is your record of social media "likes, updates and content."
"Social media marketing does not happen in a silo. It needs to connect to your company's business goals."
The more inbound web links you create, the more popular your site will become with search engines. It helps even more if the links are from authoritative websites, such as CNN.com. Blogs will also help increase your inbound links. Ask your partners and other contacts to link to your website. Your PR representatives should ask media outlets that mention your firm in articles to include links to your website.
Return on Investment in Social Media
Social media channels don't just build buzz – they can generate revenue. If you collect the right data "for social media ROI calculations," you can demonstrate social media's fiscal contribution. In order to determine your social media ROI, apply the following formula: "TLV minus cost of customer acquisition (COCA) divided by COCA equals ROI." TLV stands for "total lifetime value," that is, "the average amount of revenue paid to a business by a customer over the lifetime of the relationship." COCA represents "all marketing costs, including salaries and overhead of team members, outside agency costs, and contractor costs and all paid advertising for a set period of time, whether it is a month, quarter or year."
"Webinars are low-cost trade shows."
To determine which leads come from social media, you can use two different methods. In the "first-action attribution" method, the lead comes from the first "referer to the website." For example, when the "user clicks a link on Twitter." With "last-action attribution," you track "the last marketing event prior to the sale," for example, when the user clicks on a pay-per-click advertisement. Both methods enable you to measure the sales revenue that derives from your social media activities. To follow both ROI and lead generation, monitor your social media data at least monthly – weekly may be better for big brands. Don't worry about "meaningless metrics, like the number of "followers, fans…and impressions." Focus on leads and the sales revenues they generate.
"Social Media Reach"
Many B2B marketing professionals mistakenly eschew reach and concentrate on targeting, even though reach enables you to influence more customers. Social media outlets present special opportunities to persuade the opinion makers who influence your targeted prospects. Use six proven techniques to develop greater reach:
"Launch a contest" – Tie the prizes to your business.
"Ask for the connection" – Be direct: Tell prospects what you want them to do, such as join your email list.
"Build links" – The more inbound links you develop, the better your ROI.
"Make opting-in and following easy" – Visitors to your website should encounter as little "friction" as possible when they follow you on social media. Cut the number of clicks they have to make. "Fewer clicks, less friction."
"Beef up content creation" – Offer a lot of first-rate content. Update it constantly.
"Tell a story" – Focus your narrative on your prospects' primary concerns.
Webinars, E-Books, Web Videos, and More
Attractive social media offers generate leads. For many B2B firms, e-books of "10-50 pages in length" work well because they can function as infotainment. Successful e-books have compelling titles and feature numerous headlines and pictures, as well as links to your online content. Your e-book's file name should include your company name.
"The best way to start blogging is to start blogging."
Webinars also generate leads. Tell virtual attendees you will send them webinar videos and slides via email. Don't overload the slides with too many bullet points, but be sure you include vital take-aways. Create a "video site map" for your website to let Google know you have a video on your website.
"You will always need more time and money than you expect for executing your social media tactics."
Other worthwhile social media and online options for B2B marketing include:
"Blogs" – Your blog is the beating heart of your online program. Update it regularly with "key word-driven content." Make sure your content works on mobile devices. Add new material "one to three times per week." Host your blog on your firm's domain. Visitors to your website should see links to your blog. Include a CTA at the end of each blog post and update your posts for Twitter, Facebook and LinkedIn. Consider adding an easy-to-develop audio blog.
"LinkedIn" – This is the social network for professionals, and it develops more leads for B2B websites than any other online source. Create a company profile and add your blog, Twitter feeds and product videos. Join 10 LinkedIn "high-value" groups. Share your content. Develop as many business-oriented connections as possible.
Twitter – This online service – where users post 140-character messages – is "asynchronous," meaning you can follow other Twitter accounts without the authors' approval, including prospects and competitors. Start on Twitter by using HootSuite or TweetDeck to search for "industry-related terms." Follow the "10-4-1 rule of social sharing" for Twitter: "For every 10 tweets with links to articles from third-party sources, tweet four times with company updates or blog posts and one link to a company landing page." Share content to build reach on Twitter.
Facebook – This social media network has nearly one billion users. Half of them log in daily, which provides evidence of serious reach. Connect with them through your business page, which will appear in web searches. Facebook works well when you offer superior content, but it is vast, so try a variety of CTAs and offers to see what works best. Use Facebook's EdgeRank algorithm to increase public opportunities to view your content. Facebook's "Sponsored Stories advertising" also is a proven lead-generation option.
Email – Offer an email newsletter, the core idea behind B2B marketing. The more you email, the better your results will be; try once a day. Emails you send out "between 6 a.m. and 7 a.m." will generate the "highest click-through rate."
The mobile web – Among executives, 82% use smartphones, so adapt your social media marketing to be compatible. "Mobile-optimize" your blog posts and other content for a seamless translation to smartphone, tablet, electronic reader and other formats. Otherwise, your carefully prepared social content will not be legible to mobile users. To optimize your content, establish a "mobile style sheet" that tells mobile browsers how to display your content. You can also create a "separate mobile site" for your content, though that might be less efficient. Don't use B2B mobile apps because they hide valuable, shareable content in a closed system. "Their ongoing effectiveness for B2B marketing and lead generation is limited."
Trade Shows
Social media offer great value offline, as well. For example, your social media activities can enhance your accomplishments at trade shows. Use Twitter Search to learn what your prospects intend to do at an upcoming show. Then adapt your show activities accordingly. Use "location-based social networks" like Foursquare to build traffic to your trade-show booth. Drive more traffic with your "blog, Facebook page" and "LinkedIn group." Use webinar platforms to set up virtual conferences and sales talks.
Ease the Roadblocks in Your Way
Legal departments want to approve everything. To get around this at your workplace, ask for permission to post updates on social media without official approval. Lobby within the company to ensure that management will not block access to social media, though that's the policy at almost one of three firms with more than 100 employees. If senior managers don't support social media marketing, request authorization to establish a pilot project to demonstrate the lead-generation and ROI capabilities you can muster on behalf of your company.
About the Authors
Social media strategists Kipp Bodnar – of the marketing-software firm HubSpot – and Jeffrey L. Cohen – of the Salesforce company Radian6 – co-founded SocialMediaB2B.
Video & Podcast